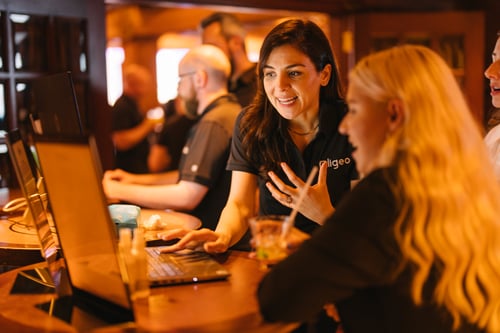 We help onboard and implement software solutions including Salesforce, monday.com, SugarCRM and Creatio.
As CRM consultants, we want to help bring calm by matching you with the right CRM software, providing support, and ongoing consultations so you can focus on what matters.
Eligeo is a proven implementation partner and has been in the CRM and Business Consulting space since 2008 with 400+ projects, 90% repeat and referral business, and work across complex verticals like manufacturing, construction, and business services.
We work hard to bring calm to your business so you can focus on your customers
Cost reduction in the long run
Long-term results of implementing SaaS Solutions include operational acceleration, increased employee productivity, and higher lead conversion rates.
Insights to help you win new business
We bring account records and associated data at your fingertips and help identify, generate, and evaluate growth opportunities for organizations that can create long-term value for you.
Streamlined and optimized workflows and processes
We bring digital products to life with rapid prototyping, testing, iteration, and validating what is most valuable to users. Our custom UX and scalable design systems save time and money for our clients.
"THE SOLUTION HAS MADE OUR MONDAY.COM DRIVEN PROCESS AT LEAST 10 TIMES MORE EFFICIENT, HANDS DOWN! OUR CUSTOMERS ARE ALREADY EXPERIENCING THE IMPACT OF THE SOLUTION. MANY OF THEM NOW APPRECIATE THE COMPANY'S NEW OPERATIONS."
-JASON GONZALEZ, OWNER AND TEAM LEAD OF WE PAINT & RENOVATE INC.
Products
1. GeoQuotes
GeoQuotes is Eligeo's freemium tool for quoting and invoicing available as an app inside monday.com and as a standalone version

2. eDigital Signatures
An app for monday.com that integrates DocuSign directly into monday.com so you can
easily track all your DocuSign envelopes and quickly send out contracts to your clients.

3. eCRM
eCRM makes monday.com even more powerful and multifaceted by allowing you to manage customer interactions and sales from your account. eCRM easily tracks deals, interactions, and prospects all from a dashboard.

4. eMaps
eMaps is an easy-to-use route planning tool built specifically for monday.com. This advanced add-on includes several features including range-based and order-based trip planning. The best part is that it works within monday.com!

5. eTexts
Eligeo's eTexts custom app for monday.com allows you to connect your Twilio account to send and track texts to your contacts within the monday.com app. Add the integration to any board with a phone number column and start texting.


Monday.com

SugarCRM

Creatio

SalesForce
Wheel Pros

Safety Driven

EllisDon

University of Regina

Payworks

Several others ranging from associations and consultants to NGOs